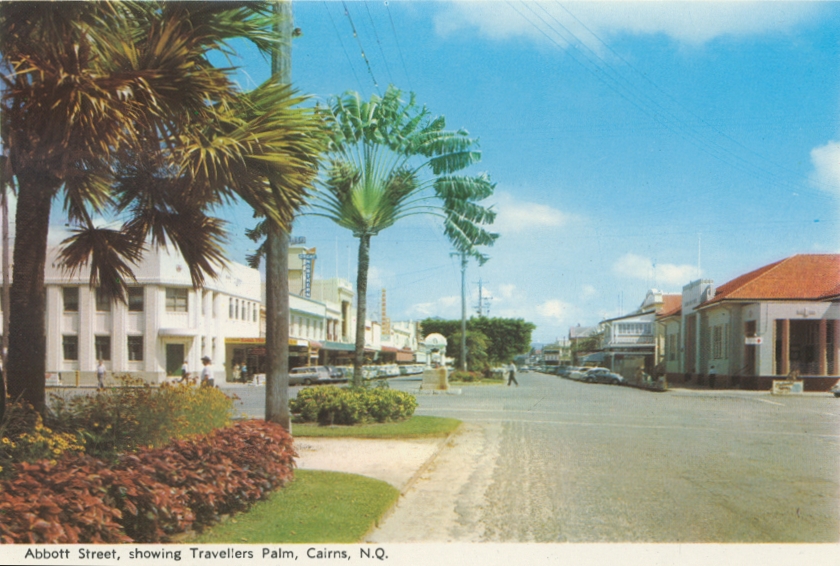 Cairns, Queensland's northern-most city, is an international gateway to Australia and the Great Barrier Reef. For much of the twentieth century, its economy depended on sugar growing and farming on the nearby Atherton Tableland. Later tourism became the dominant industry. It has long been engaged in commercial rivalry with the larger city of Townsville.
Further Reading:
Dorothy Jones, Trinity phoenix: a history of Cairns and district, Cairns, Cairns and District Centenary Committee, 1976
Peter Ryle, By air and sea: Cairns Port Authority, the first hundred years, Cairns, the Authority, 2006
Jim Davidson and Peter Spearritt, Holiday business: tourism in Australia since 1870, Melbourne, Miegunyuh Press, 2000
Monty Hamilton-Wilkes, What to see round Cairns, Sydney, Angus and Robertson, 1969
G. Jennex, A short history of Cairns, Cairns, Historical Society, 2005
Patsy Coverdale, North Queensland in black and white: a social history with views, stories and archaeology, Mitchem, MOQ Books, 2011
Bentley Park, Bungalow and Portsmith, Cairns Suburbs, Caravonica, Clifton Beach, Deeral, Earlville, Edge Hill, Edmonton, Freshwater, Gordonvale, Holloways Beach, Kamerunga, Kewarra Beach, Machans Beach, Manunda, Miriwinni, Mulgrave Shire, Palm Cove, Parramatta Park, Redlynch, Smithfield, Stratford, Trinity Beach, White Rock, Woree and Yorkey's Knob entries
Copyright © Centre for the Government of Queensland, 2018. All rights reserved.