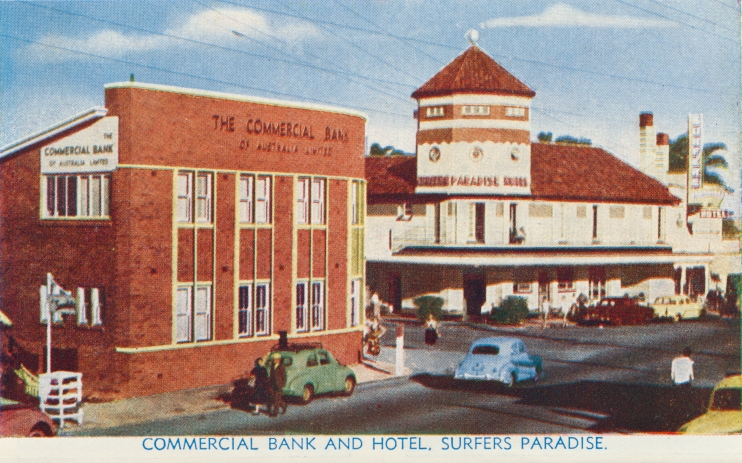 Surfers Paradise, a coastal resort 75 km south of central Brisbane, is the best-known of the settlements on the Gold Coast. It includes the canal suburbs of Isle of Capri, Paradise Island, Paradise Waters and Chevron Island. Since the 1950s Surfers Paradise has entered the Australian imagination as the ultimate beach resort. It continues to have fans and detractors. Today it is an hour's drive from Brisbane, and a 30 minute drive to Coolangatta airport for flights to southern capitals.
Further Reading:
Michael A. Jones, A sunny place for shady people: the real Gold Coast story, Sydney, Allen & Unwin, 1986
Alexander McRobbie, 20th Century Gold Coast people, Surfers Paradise, Gold Coast Arts Centre Press, 2000
Alexander McRobbie, The fabulous Gold Coast, Surfers Paradise, Pan News, 1984
Alexander McRobbie, The real Surfers Paradise: from seaside village to international resort, Surfers Paradise, Pan News, 1988
Russell A. Smith, Beach resorts: a model of devleopment evolution, University Microfilms International, Harvard Graduate School of Design, 1990
John Vader, The Gold Coast book: an illustrated history, Milton, Jacaranda Press, 1980
Copyright © Centre for the Government of Queensland, 2018. All rights reserved.